A blockchain platform for transparency and traceability
1.5.2 (Release Date: August 2022)
Everledger is passionate about empowering manufacturers, certification houses and retailers to evidence the lifetime journey of a diamond to build trust and drive value throughout the supply chain. Our latest product update, EP 1.5.2, revolutionises the diamond browsing experience for your customers and brings even more flexibility to the Everledger platform, enhancing your ability to document and share the provenance information of both natural and lab-grown diamonds.

Partial Event Information
We have extended the way diamonds can be uploaded onto the platform, enabling miners and manufacturers to process partial event information. This makes the Everledger Platform more accessible for users who may not have complete data sets. Ultimately, this allows data to be captured for a wider range of diamonds and makes every piece of provenance information valuable in building a transparent supply chain.

View Diamonds From a New Angle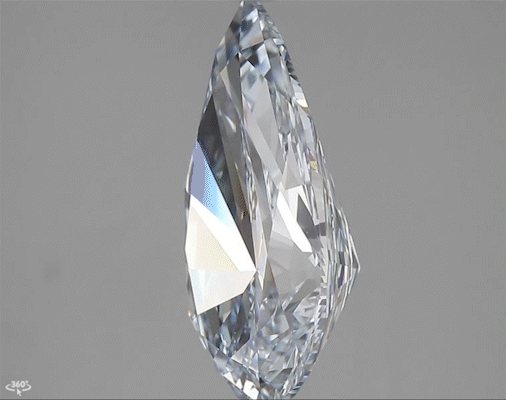 With this release, more detailed images and videos can be viewed for all transformation events along the supply chain. For example, new file types are supported, such as Vision360™ scans, which can be rendered directly on the platform. Alternatively, multiple images can be uploaded for an event and customers can view this as a carousel. This revolutionises the diamond browsing experience and allows retailers to more accurately share the quality and individuality of their stones alongside important provenance information.
It is now also possible to more accurately record, track and show Parent & Child Diamond relationships. Visually, customers can examine the two or more diamonds cut from a single, larger rough diamond directly within the Planning Event.
Furthermore, we have expanded the range of diamonds that can be recorded on our platform, to include new shapes and designs such as Rectangular, Triangular, Trilliant and Baguette.

Add and Share Lab-Grown Diamonds
EP 1.5.2 caters to the increased demand for lab-grown diamonds, where many traditional events related to natural diamond mining are not applicable. Now, purchasers can more easily analyse specific lab-grown processes by viewing the time-stamped events that are captured on the Everledger blockchain to view the complete story of a lab-grown diamond. The 'Growing & Cleaning' event highlights the technical method used to grow the diamond, such as chemical vapour disposition (CVD) or high-pressure high-heat (HPHT). The 'Enhancement' event also provides details on techniques such as irradiation that may have been applied to the diamond.

1.5 (Release date: April 2022)
Lab-grown diamonds now on the Everledger Platform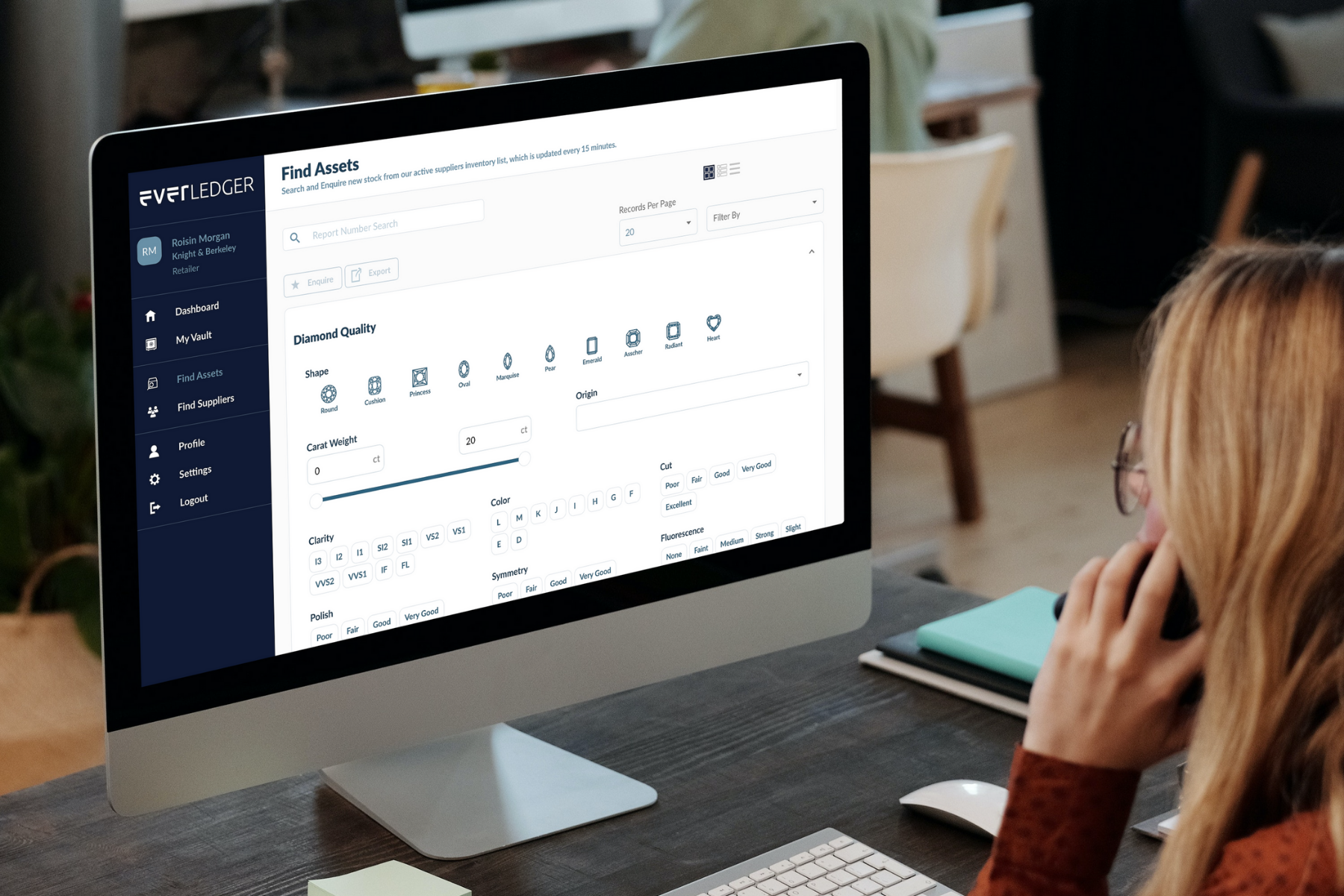 With new, lab-grown diamond provenance reports available for discovery on the Everledger Platform, retailers can discover and display events around carbon seed origin, growth, and an enhancement to the grading event that identifies the stone as being lab grown instead of mined. A departure from supply chain events associated with mined diamonds, the 'Growing & Cleaning' event includes details around the technology used to grow the diamond, such as chemical vapour disposition (CVD) versus high-pressure high-heat (HPHT). The 'Enhancement' event includes information on added HPHT processes or irradiation.
In future releases, purchasers can easily analyse the lab-grown process by viewing time-stamped events that are captured on the blockchain and retailers can more reliably demonstrate sustainability claims made with that data captured, such as the use of renewable energy in the creation of diamonds.
Fancy coloured diamonds
In EP 1.5, the Everledger Platform has been expanded to include fancy coloured diamonds. The 'grading' event has been updated to contain new data fields such as colour origin and colour distribution. These data points can share how the colour of the diamond was created, either naturally or through enhancement techniques. Retailers and Suppliers are now able to filter and search for fancy coloured diamonds, with verifiable provenance details, to add a new dimension to their inventory offerings.
The Everledger Platform now supports easy minting of NFTs
Creating an NFT of a physical product — such as fashion, wine, or diamonds — can add quite a bit of value to that product by increasing its rarity and the ability to prove authenticity. It also can increase customer trust in a brand's digital reputation and reduce customer doubt, especially with the prevalence of counterfeit products in the marketplace.
Now on the Everledger Platform, a consumer with ownership of a digital asset in their Asset Vault can easily add it to a range of other crypto wallets (e.g., Metamask) and create or 'mint' and NFT within other Web3 environments such as Ethereum, and Polygon. Additionally, the Everledger Platform makes it easy to integrate provenance data and NFTs with marketplaces such as OpenSea and Raible. Here, this NFT can be used to verify authentic ownership, listed for exchange, or referenced to unlock an experience associated with the digital asset or physical object. A key distinction of the Everledger NFT is that product claims such as origin, ownership, transformation, and sustainability are all immutably recorded within the associated metadata.
New widget design with improved customisation
The Everledger Amplify Widget (V1.2) makes provenance even more accessible, with a new origin filter that gives retailers the option to select which countries appear on their own websites, another benefit of utilising the blockchain. Now customers can read the truthful journey of a diamond directly on eCommerce sites and retailers are able to tailor that story in new and creative ways. The more interactive template has been designed to engage customers and guide their attention toward specific events along a diamond's journey. The four main events, origin, assessing, planning and grading share a cleaner design and are more customisable with colours and language options to better align with brand identity.

Everledger Provenance Widget
Tailored to display relevant inventory
With a straightforward Javascript bundle that can be easily customised, e-commerce sites can now embed a widget from Everledger that displays the provenance data and transformation events for any object on the Everledger Platform. 
A basic template today for both diamonds and gemstones is available to display origin, planning and cutting, and certification details. All that is needed to get started is to identify the digital asset IDs on the Everledger Platform and provenance details relevant to the brand experience for an API widget that's site specific. The Everledger Provenance Widget that's used in one's own site to display relevant inventory is tailored for a given brand and is not able to be copied and applied within another site.
Retailers and marketplaces can now offer links to provenance reports for any object as it's displayed either within the Everledger Platform or on Provenance Proof, another open source blockchain platform by Everledger. Previously, the only way to access provenance information around objects on Everledger's platforms such as diamonds or gemstones requires authenticated log-ins or API calls. With growing integrations of online marketplaces and aggregators however, producers can determine the inventory they wish to make publicly available. Public links widen a producer's reach and help to set their inventory apart with origin, compliance, and sustainability data. 
Now within the Everledger Platform's Identify feature (a progressive web app for blockchain-backed product authentication), consumers of participating products can easily sign up for their own Vault by confirming their email address. Without the need to be onboarded to the platform itself, anyone can now store within their Vault the digital ownership of objects which they can also transfer to anyone else to support peer-to-peer trading and secondary market transactions. The Vault can be accessed either by web address or directly by tapping an object's NFC symbols or scanning its QR code.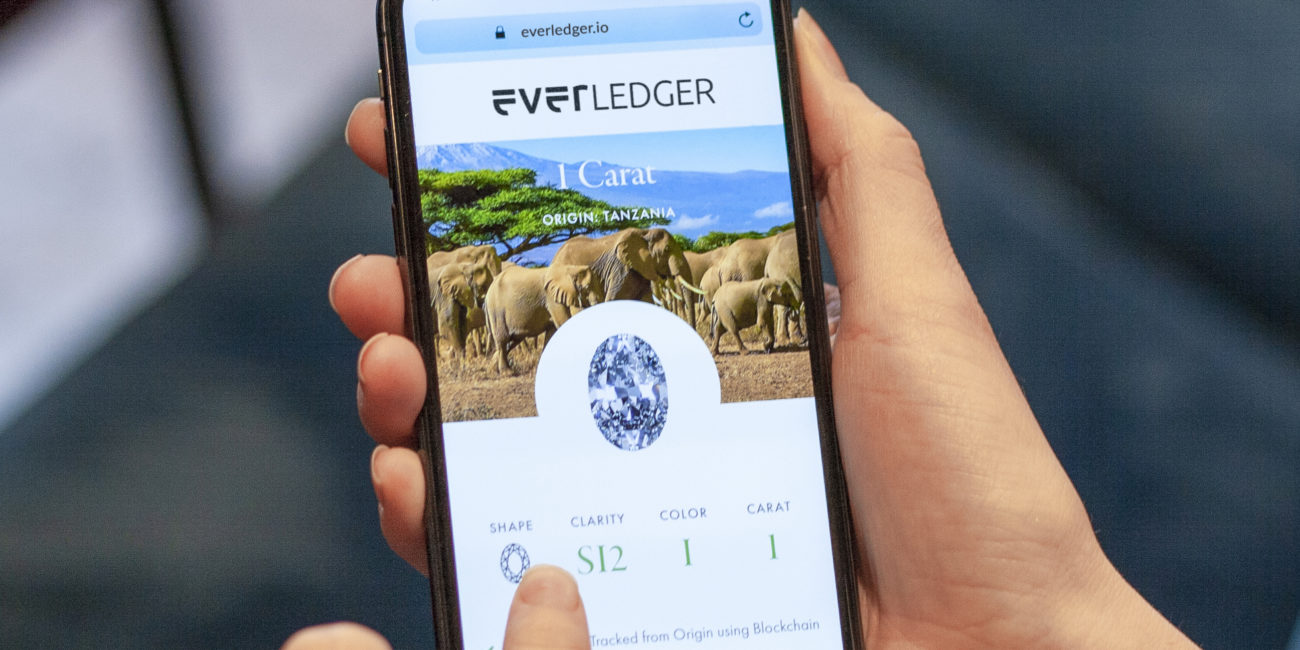 As the blockchain provides for an audit trail of persistent object identity over time, the Everledger Platform is as much an exchange of assets with immutable provenance data as it is a repository for that data. Today, people can now filter search results to display either all assets or only those that are available for sale, a complete view of all the available stock from all suppliers versus a long-term registry of diamond data on the blockchain. 
Make accurate storylines of provenance easier than ever to tell
New feature release: Everledger Identify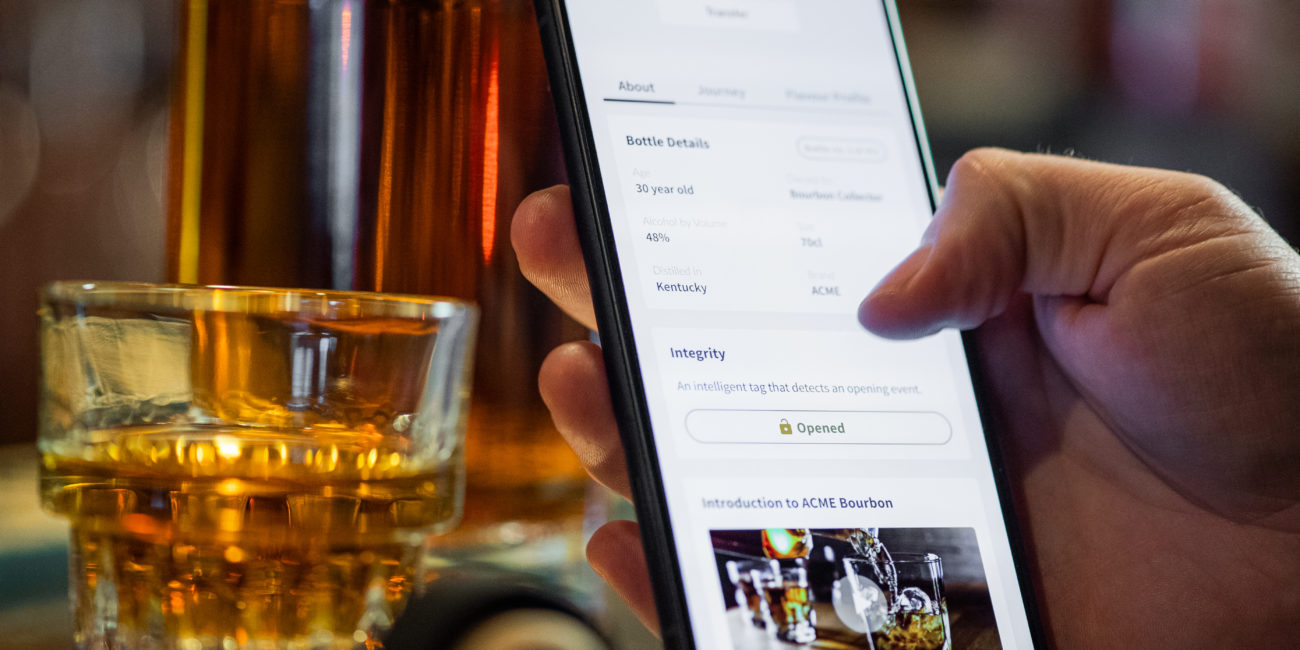 Authenticate, transfer, and track products by creating unique object IDs and custom digital experiences accessed with mobile device interaction. Beginning in April 2021, manufacturers can provide clear evidence of production details for object-level provenance records added to the blockchain as a part of the Everledger Platform.
Within this first version, intelligent labelling is incorporated in the object, where downstream participants can access records with mobile devices.
Everledger Platform Feature Enhancements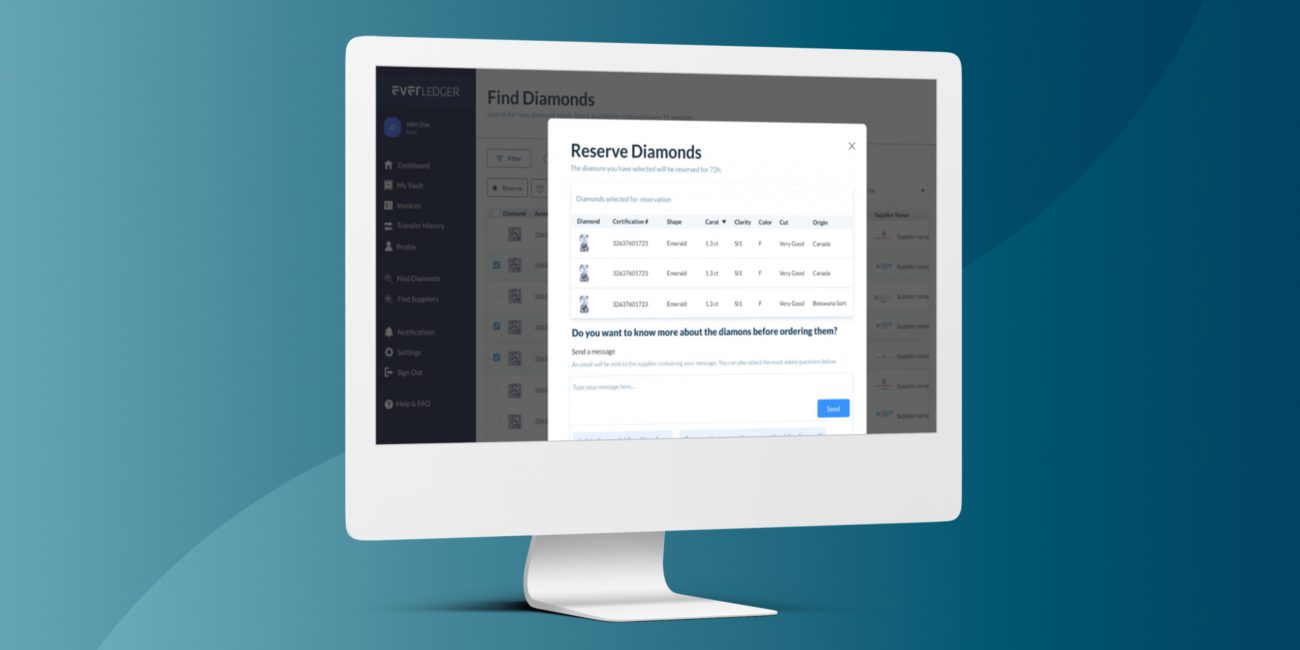 In March, we introduced some updates to the Everledger Platform that add convenience in the discovery and inquiry of objects with provenance.
Feature Enhancements for Web 3.0 Brands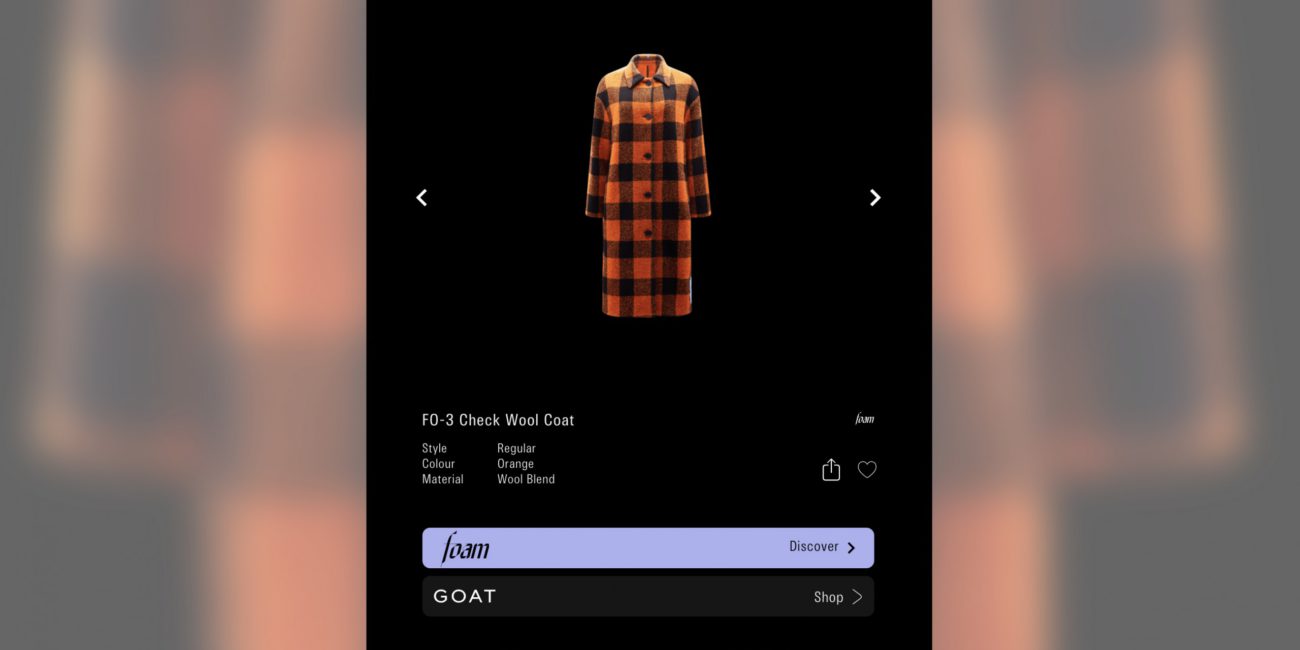 By bridging virtual technologies and the real world, the Everledger Platform helps brands to better connect with consumers through their digital lives. For emerging technology-focused consumer labels such as MCQ, Everledger enables both designers and consumers to securely register and trade clothing.
As a tech-integrated streetwear label, garments within each distinct collection have blockchain technology embedded in the tag, which can be tapped with a smartphone to confirm the authenticity of the item and register it to a digital wardrobe. MCQ also functions as a 'cultural accelerator and global community of creatives,' where an exchange of ideas provides for an open editorial platform, where collaborators and collectors interact to evolve the label.
In what originally launched as a mobile experience for object-level authentication at the point of sale, MCQ has grown into a community of shared interests with a growing number of participants preferring trusted interactions from their desktop. This month, all of the experiences once optimized for mobile-only are now equally accessible from all other devices.
SMS integration for community events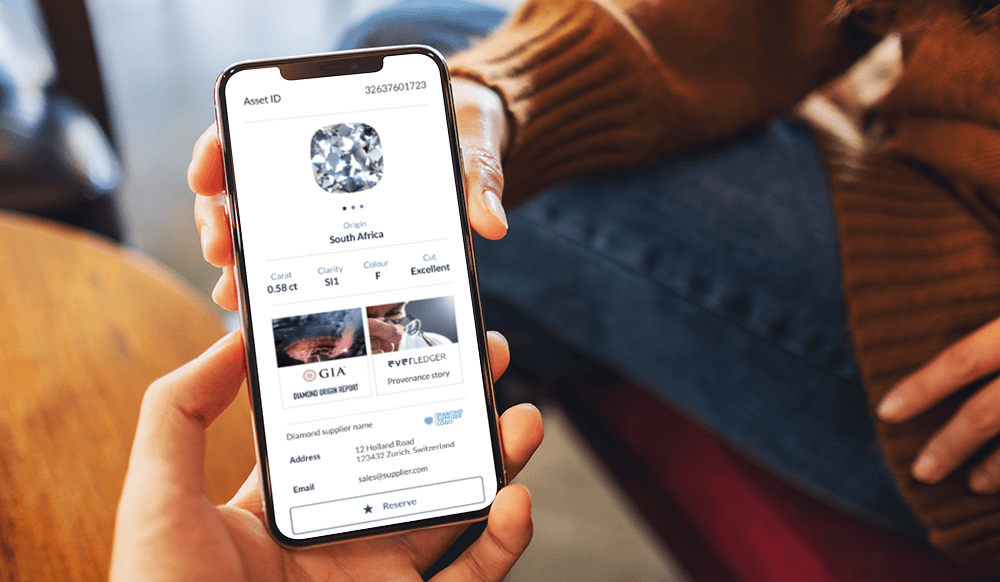 Everledger's integration with SuperPhone goes beyond two-factor authentication and customer onboarding with its support of registering community members for invite-only events. For MCQ, regular releases of collections, or 'icons,' are live celebrations on Zoom, with exclusive access to musical performances accessible only to the MCQ community.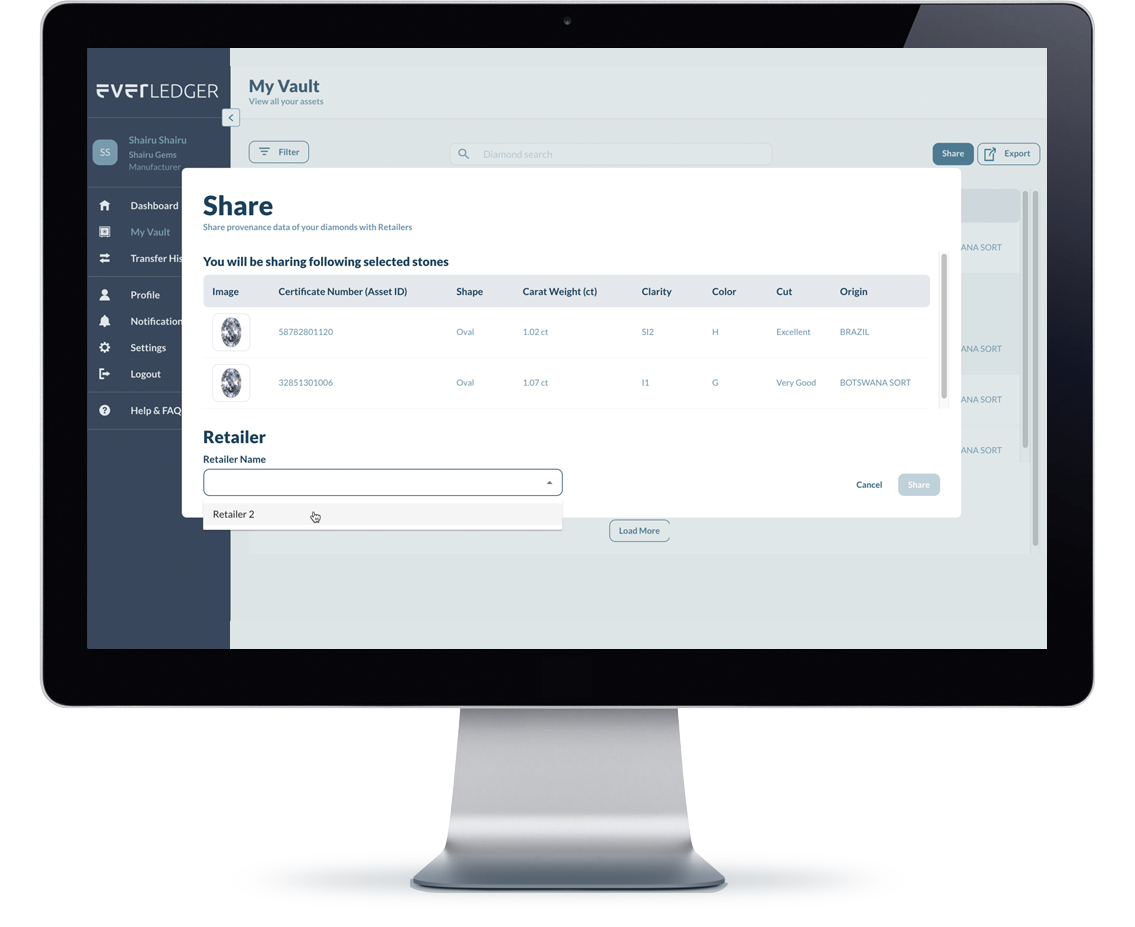 With the Everledger platform, businesses can substantiate claims about a product's origin, supply chain, and production practices. By making asset information easily accessible and verifiable, and utilising the best modern technologies to do so, the platform enables supply chain actors and consumers unprecedented transparency and trust around the origin, characteristics, and authenticity of their purchase.
Everledger Data Pipeline (EDP) – For Data Providers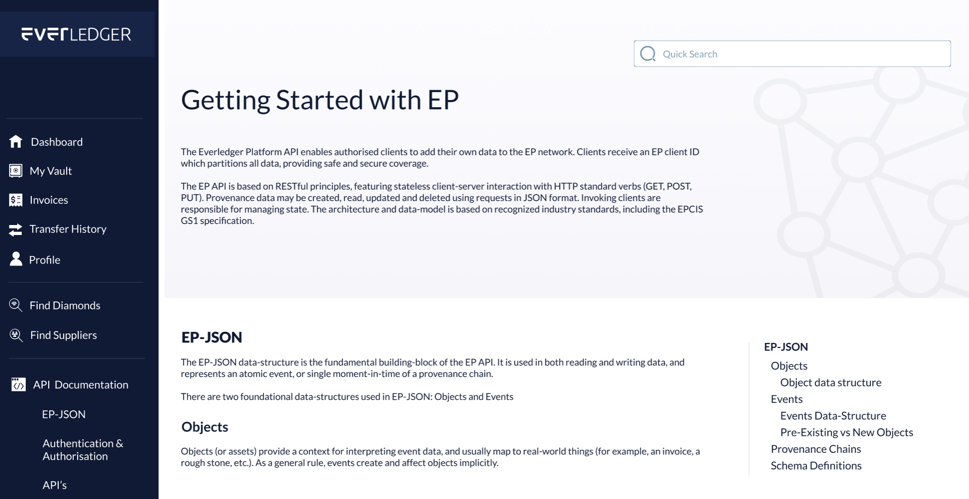 EDP allows data providers to submit data to the EP system by either JSON format, or a file (CSV), which is detailed within the Data Ingestion API. This data can be then pushed to Everledger Platform, e-commerce sites, mobile apps, or ERP systems. EP is presently able to validate and process 24,000 stones per day. Developer tools will be centrally located within EP.
Optical character recognition & data validation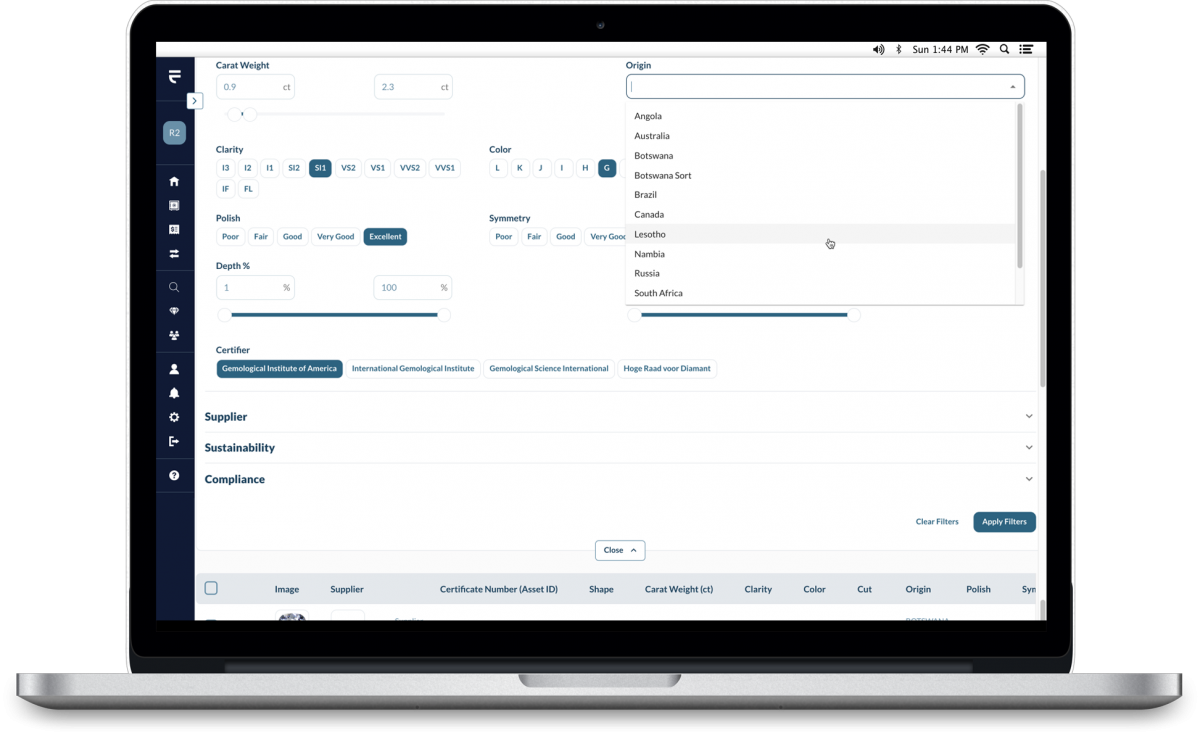 Efficiently analyze data sets and meet documentation requirements with advanced optical character recognition (OCR) capabilities. Everledger will provide some minimum checks for all assets added to the blockchain to demonstrate a legitimate sale per international norms and international trade regimes.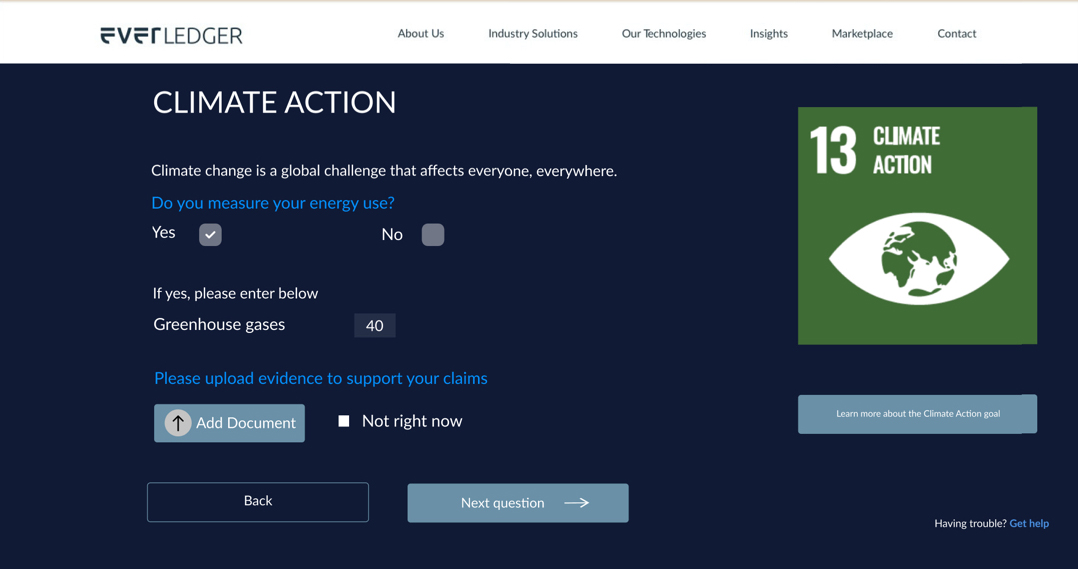 The Everledger platform brings to the diamond industry a clear line of sight and the validating power of the blockchain so that suppliers and retailers can more efficiently respond to consumer expectations for transparency and trust. Within this first release of EP, people can upload data around their diamonds, and others can explore that inventory, transfer ownership of a diamond's digital twin, and show its full provenance record. Discover in this section how profiles are set up, analytics are accessed, and the platform is generally used.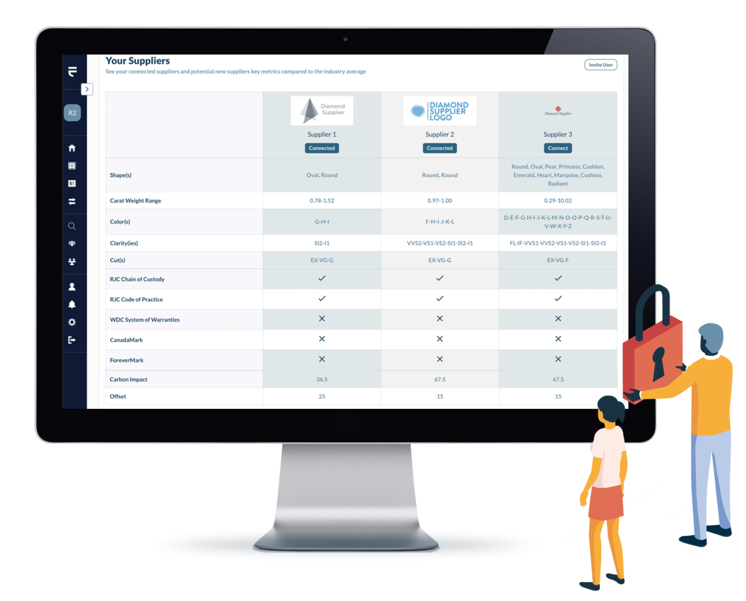 Within the organization's Vault are the 'digital twins' of each diamond, either uploaded or purchased, where forensic data, provenance events, and certifications are kept.
The transfer of ownership of a diamond's digital twin and provenance record is made from the supplier's Vault and into the Vault of a retailer. This change in custody is recorded on blockchain and is what provides for an authentic and accurate provenance story for each gem. Retailers are alerted to successful transfers by email notification, with an invitation to access their Vault. Similarly, retail jewelry customers are invited to access their own vault on the Everledger platform upon a diamond's purchase.
Request More Information?