Find out what is happening, discover webinars, events and latest articles
Everledger's response to the evolving situation in Ukraine
At Everledger, we believe that transparent supply chains are accountable supply chains.
With the unfolding situation in Ukraine, global governments have and continue to make moves to apply sanctions to Russian trade, including Russian-made products.
Supply chain management has been in the spotlight since the global pandemic and the current situation further demonstrates the fragility and global connectedness of our supply chains with many raw or elemental parts of a finished product coming from different areas across the world.
The global diamond industry has well-established trade corridors including in and out of Russia. As global governments make moves to apply sanctions, the implications and requirements for legal and ethical trade are rapidly changing.
Everledger's platform for diamond provenance and traceability enables retailers to quickly identify and filter out inventory to maintain their commitments to ethical and legal sourcing and rapidly respond to changing global sanctions. Previously, this would have been difficult, often impossible to do at scale.
We'd all prefer to live in a world free from the spectre of war. In the meantime, when we see world events seemingly spiralling out of control, we ask ourselves: what can we do? With Everledger, retailers who have made the commitment to ethical and transparent supply chains are empowered to maintain control in a shifting global landscape.
To read more about how Everledger enables traceability, read our article on Forbes.
In October 2023, the Transition Phase of the European Union's Carbon Border Adjustment Mechanism (CBAM) will begin, and a new era will start in the world of international trade. Now is the time for businesses to be proactive and prepare for the upcoming changes to ensure that this new regulation works for them, not against them.

Digital transparency company Everledger today announced the launch of a world-first battery passport pilot with leading automotive manufacturer Ford Motor Company (Ford) to ensure responsible recycling of EV batteries.

The recently enacted Inflation Reduction Act (USA) places stringent requirements on auto manufacturers to evidence the material sourcing and manufacturing of electric vehicle batteries across their supply chain. Find out how Everledger's platform can help manufacturers address this challenge by enabling the creation of a "battery passport", in essence a unique digital identity that evidences the components of individual batteries and spare parts.

With the invasion of Ukraine, supply chains are again being thought about as countries move to apply sanctions against Russia including Russian-made products. Without transparent supply chains, how do we know what we are boycotting?
Everledger CEO Leanne Kemp explores how critical minerals mining must evolve in line with growing investor appetite for ESG compliance. In any moment, in any circumstance, a junction appears where we must align ourselves with Trust, Transparency & Truth to prevail. Could provenance technology help tell the truthful stories that investors need to read?
AWI and Everledger have pioneered a supply chain traceability proof-of-concept to capture and make visible secure information about wool provenance and its supply chain to create new sources of value for wool growers, manufacturers and retailers.
Pearls of Australia is renowned for their saltwater pearls, sourced from pristine Australian locations and the unique way they produce and bring them to market. They truly believe that every pearl and has a unique story to tell and have long recognised the challenges of how to make this journey more accessible and appreciated.
By using a new service from Everledger, independent retailers can easily reference the origin, human rights, and environmental performance of their diamond listings from the world's leading producers.
Everledger wins major Australian Government critical minerals blockchain pilot project

Multi-award winning digital transparency company Everledger is pleased to announce it has been successful in winning a A$3 million pilot project from the Australian Government.

The world's first digital blockchain pilot for critical minerals is a collaboration between Everledger and significant contributors from Australia and world experts.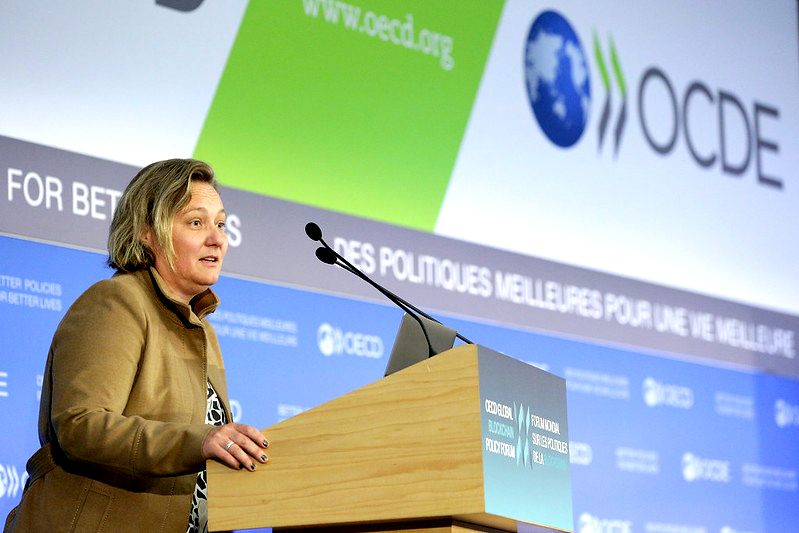 CEO Leanne Kemp named Adjunct Professor for Queensland's Griffith University


CEO and Founder of Everledger, Leanne Kemp has been appointed as Adjunct Professor in the Department of Business, Strategy and Innovation for Queensland's Griffith University.
By using a new service from Everledger, independent retailers can easily reference the origin, human rights, and environmental performance of their diamond listings from the world's leading producers
Subscribe to our newsletter
Our newsletter packages up all the best recent content for you. Subscribe now so you don't miss out! 
Remember to opt-in for marketing to be added to our list.