BY EVGENY GOKHBERG
// Head of Commercials
Founded in London in 2015, Everledger has quickly grown into a global digital transparency company. Evgeny Gokhberg, head of commercials, gives the back story on their asset tracking software amongst other insights.
We work closely with clients in a number of different industries where transparency is a strategic imperative, creating secure and permanent digital records of an asset's origin, characteristics and ownership across its lifetime. Everledger helps stakeholders in diamonds, gemstones, wine and spirits, luxury goods, e-waste management and insurance to meet society's expectations for sustainable, verifiable sourcing.
The lifetime story of a diamond, coloured gemstone or fine bottle of wine is valuable information. It's a story that brands must increasingly be able to tell with clarity and confidence, to meet their customer's call for responsible and verifiable sourcing.
As an independent technology company, we have the people and skills to help businesses to surface and converge asset information, using a symphony of secure technologies, including blockchain, AI and IoT. By digitally streamlining their compliance processes, we can help to share the history of an asset more efficiently and accurately (read more on blockchain asset tracking). This becomes a valuable source of clarity and confidence, as well as resilience and sustainability.
We recently completed $20m Series A funding with the backing of Tencent, China's leading internet-based services provider. Graphene Ventures, Bloomberg Beta, Rakuten, Fidelity and Vickers Venture Partners have also participated. This investment supports us in bringing more visibility to good business practices in industries that impact millions, if not billions of people in developing countries.
We believe that having this strong investor cohort join us at this stage in our development is both validation of the innovation we've displayed to date and a statement of future intent.
Another milestone in our development was certification to the ISO 27001 standard, which defines the most secure approaches for managing and protecting sensitive data. We have therefore joined an elite group (less than 2% of all registered companies worldwide) who can say their practices, policies and procedures are all compliant with this global benchmark for information security. As far as we know, we are the only blockchain company that has achieved the level of data compliance that enables accreditation by ISO.
In recent years, we have seen declining trust in major institutions that were the custodians of trust for so long. Technology such as blockchain can help to rebuild that trust, by allowing businesses and customers to bypass intermediaries and so avoid the risk of error, delay, bureaucracy and deception. But the technology needs to work. Technology companies need to earn confidence in the processes that underpin their technology. This is why the ISO 27001 standard is so relevant to a technology partner like Everledger, which works with industry players to create ever more transparency in their supply chains.
Last year, we also launched version 2.0 of our blockchain platform, with the aim of increasing levels of transparency across complex and regulated supply chains. This rapid growth is supported by our determined team of 'Everlegends'. These engineers are expert builders, who excel in a collaborative environment. Our team has immensely diverse backgrounds, but we share a common goal: to address real challenges through breakthrough solutions.
We have developed a blockchain platform that can track the movement of goods from raw materials to the end consumer, and beyond (re-commerce, circular economy). Our first application was to follow diamonds up the value chain to ensure they come from responsible sources. Diamond customers – and especially the growing segment of millennials – want to know beyond doubt that their diamonds are not from conflict zones. Our solutions help our clients to prove that (read more on blockchain diamond tracking).
Clients gain a 'record viewer' that allows them to see the lifetime story of each asset, including claims made about the origin, sustainability or chain of custody, accessible on mobile or desktop. The blockchain platform converges and surfaces data from miners, manufacturers, certification houses and retailers, enabling them to drive a positive social and environmental impact. Asset owners can view and query all their assets, through a secure portal, or 'asset vault'. At the press of a button, they can check the unique identifiers for each asset, and then also register and track ownership securely on our private blockchain.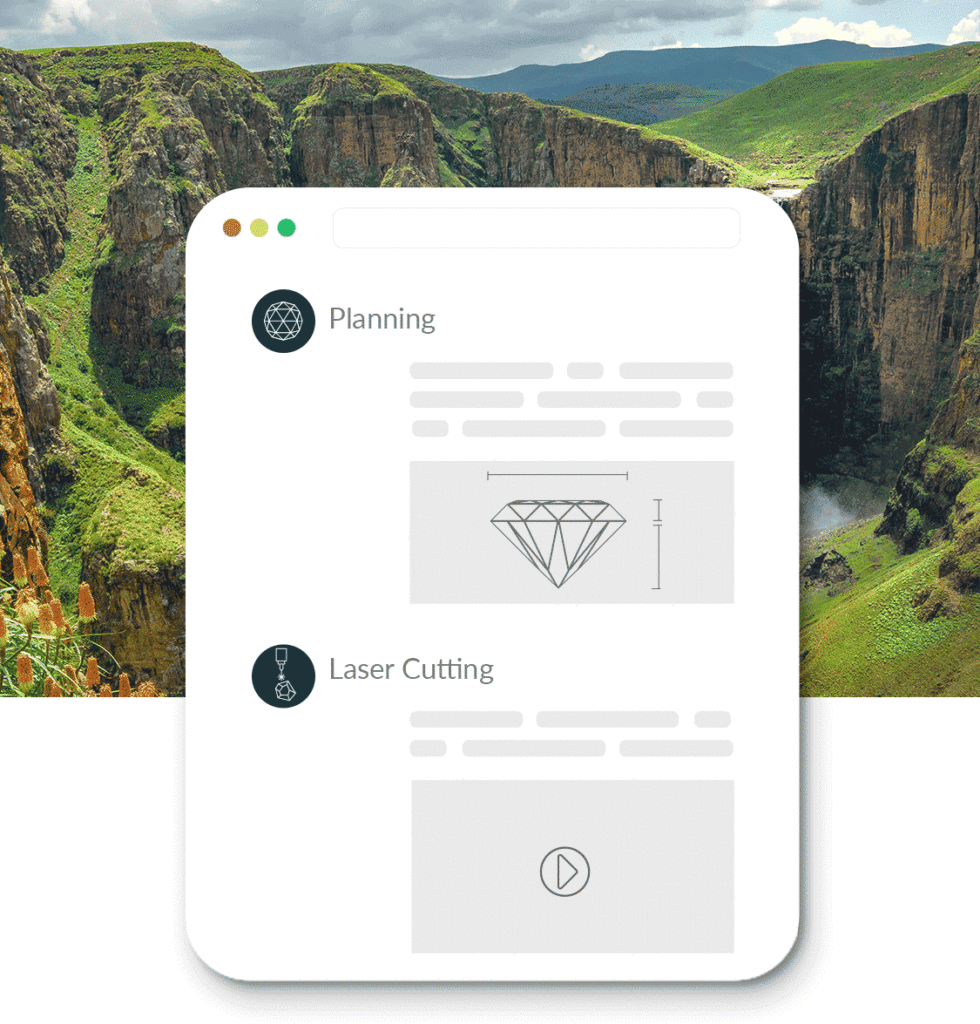 For example, US-based jewellery retailer Fred Meyer uses the Everledger platform to demonstrate the provenance of diamonds in its RockSolid collection, which it has recently extended across 100 stores in America. Last year, we also entered a new partnership with Spanish jewellery designer and manufacturer Facet, supporting the launch of their new collection of blockchain-enabled diamonds, DiamondByway. This is the first extensive collection of traceable jewellery in Europe, demonstrating Facet's determination to a more sustainable and socially conscious industry.
On the back of the recent investment from Tencent, we have launched a pilot Mini Program for blockchain-enabled diamonds on Tencent's WeChat platform. The Mini Program will provide information about a diamond to consumers looking to make an informed purchase online. In partnership with the world's largest diamond company ALROSA, the new Mini Program enables transparent and secure information – such as origin, grading and ownership – at the fingertips of potentially more than a billion active users on WeChat. We're open to testing this with partner retailers and brands in China.
In response to customer demand for transparency, Chow Tai Fook Jewellery Group and the leading independent diamond grading authority Gemological Institute of America (GIA) approached Everledger to design a solution that would deliver secure, digital diamond grading reports on the blockchain. This was the first platform of its kind on the blockchain, a truly pioneering project. Customers of Chow Tai Fook's T Mark luxury brand receive a permanent and immutable blockchain record of their diamond's GIA grading information, giving them additional assurance and transparency of their diamond grading and traceability information. This industry breakthrough adds a new dimension to their customers' experience of owning a diamond.
Effectively, T Mark diamonds are certified twice: first by Chow Tai Fook, ensuring traceability, truthfulness, thoughtfulness and transparency, and then by GIA's digital grading report identifying each stone's colour, clarity, cut and carat weight. Consumers can access this information, secured by our blockchain technology, by a mere tap on a mobile app.
Compared with diamond mining, the extraction of precious gemstones remains a largely decentralised industry. In fact, 80% of gemstones – such as emeralds, rubies and sapphires – are mined by small companies or individuals. Blockchain has emerged as an innovative way of encouraging and capturing the flow of reliable information (read more on gemstone blockchain).
For example, our asset tracking technologies can help to aggregate evidence of a gemstone's story, such as origin, quality and custody. With the unique identity of each stone surfaced and converged on our platform, stakeholders across the whole value chain can buy and sell with greater confidence.
While Everledger creates the tools, our clients provide the raw material: information. For example, we partner with the GIA to produce grading reports for the stones on its own platform, including details about the colour, clarity, shape and carat weight, which ultimately informs the value of each diamond.
We are also very proud to partner with Gübelin Gem Lab – the world's leading gemmological laboratory for examining and determining the authenticity of precious stones. Together, we deliver the Provenance Proof Blockchain to improve traceability in the industry. Through the blockchain technology of this platform, coupled with Gübelin's Emerald Paternity Test, it's now possible to evidence a stone's birthplace and trace its journey across the value chain. The Emerald Paternity Test uses DNA-based, nano-sized particles encoded with the mine's information to tackle the issue of a stone's origin. Applied on the gemstone at the source, it enables the full traceability of a stone's birthplace throughout its lifetime via immutable records on the blockchain.
The information converged from nanotechnology is securely stored on the industry's first blockchain for coloured gemstones. A gemstone supported by this initiative is now accompanied throughout its journey by a digital log on the blockchain. The steps in this journey – indicating important details such as the chain of custody – can be entered on the log, where they become secure and unalterable.
All stakeholders in the industry are welcome to join this initiative, and can do so, remarkably, at no cost: there are no charges for the use of this blockchain solution. Both the data contribution and access are completely free of charge. The Gübelin family has been proud to make this contribution to foster transparency in the gemstone industry, and Everledger is happy to enable this vision with cutting edge technology.
The Lake Victoria Region of East Africa is renowned for its rich deposits of minerals and metals. Tanzania, in particular, is blessed with large reserves of coloured gemstones that have turned the city of Arusha into a buzzing international trading hub. Nonetheless, communities there are faced often with unfair working conditions and trade prices, and poor management of environmental impact. The female population, in particular, is at a disadvantage with lack of financial access, low ability to independently seek employment and limited economic security.
We have partnered with Moyo Gemstones, an ethical gemstone collaboration born in Tanzania. Under Moyo Gemstones, our partner Pact has established a strong relationship with the Tanzanian Women Miners Association (TAWOMA), to verify the legality of mining and trading and confirm responsible practices of mining. Moyo Gemstones uses our blockchain solution for coloured gemstones – the Provenance Proof Blockchain developed for Gübelin Gem Lab – to track the gemstones mined by the miners in TAWOMA from source.
By allowing the gemstones mined by TAWOMA to be securely traced all the way from miner to market, our solution provides an unalterable record of where a gemstone has been, how it has been processed, and the legacy it leaves behind. It increases transparency throughout the supply chain, empowering the female miners in TAWOMA to work safely, mine better and improve financial security. Additionally, this programme is kindly funded by the House of Gübelin, with no cost to participating mining communities.
The worth of the global market for wine counterfeiting is believed to have crossed the billion-dollar threshold. Estimates of the scale of counterfeit wine in auction sales range from 20% to as much as 80% for the most popular regions. But while fine wines attract the headlines, the main flow in money is around high-volume mass-market imports of foreign goods into Asia.
According to a leaked report by the watchdog Comité National des Conseillers du Commerce Extérieur de la France (CNCCEF), every second bottle of French wine sold in China is counterfeit. Scotch whisky faces a similar challenge across the region, with empty bottles filled with flavoured vodka and then resealed. Such is the skill of the forgers that even experts are often duped until they take the lid off. Worldwide, nearly a third of all alcoholic drinks are mislabelled, counterfeit or fake, according to the International Center for Alcohol Policies.
Winegrowers large and small bear the greatest responsibility in upholding their brand, yet they also have the least amount of visibility into their supply chain. When the barrels or bottles leave their gates, there is only so much they can do to protect their legitimacy. Brands can find themselves helpless when confronted with unscrupulous and sophisticated fraudsters. When wine or spirits are adulterated or falsely labelled, reputations built on craft, origin, and quality are quickly tarnished. Lack of transparency throughout the wine and spirits supply chains leaves them vulnerable to counterfeiting, impacting consumer confidence and restricting brand equity.
Every genuine bottle must pass strict geographical certification procedures to establish its authenticity. Therefore, if this information can be captured at source and then made readily available to traders, collectors and buyers, the risk of counterfeit can be minimised. In addition, brands can market the undisputed authenticity of their wines as a unique selling proposition.
Using websites alone to verify origin has proved inadequate when faced with organised criminals. Anyone who has ever been tricked by a phishing scheme will have seen a phoney website purporting to be a trusted brand. The sad truth is that faking a site is easy. Similarly, a QR code from a genuine bottle can be reprinted on a replica.
Distributed ledger technology is helping to provide a new weapon in the fight against counterfeiting. For example, when a bottle's identity is accessible by interacting with its chip (and all interactions are recorded on the blockchain), then the gains for authentication over a secure website are substantial. The adoption of anti-tamper smart closures, with chain-of-custody events on any given bottle made visible to all on the ledger, is already making business more difficult for the fraudsters.
Everledger helps clients to create a unique digital identity for every bottle, using blockchain, near-field communication (NFC) and Internet of Things technologies. We work closely with customers all along the supply chain, from growers to merchants and into broader retail, with the goal of building ever more authenticity in the global industry.
We were the first to secure a bottle of wine's provenance on the blockchain. In 2016, we certified and secured a bottle of 2001 Margaux on the Chai Wine Vault – a solution in partnership with wine expert Maureen Downey. The Chai Wine Vault issues certification to bottles through a method that entails the creation of more than 90 data points, as well as high-resolution photography and records of ownership. The data helps to track the bottle throughout its journey on the supply chain.
That digital proof travels with the wine between stakeholders with records updated as the bottle changes hands. At every stage of the journey, organisations can link to the bottle's "digital identity" to verify its legitimacy.
Everledger has also collaborated with Avery Dennison, a global leader in intelligent label solutions to develop end-to-end traceability and provenance solutions for the wine and spirits industry. This partnership, launching first with 'Appellation Earth' wines from Napa Valley by US-based wine négociant Wine Trade Network, combines Avery Dennison's intelligent label solutions with Everledger's blockchain-based platform.
Sustainable batteries have emerged as an exciting test case for how the circular economy might benefit the planet. By 2030, it is estimated there will be over 18 million electric vehicles (EVs). Battery technology could enable the transport and power sectors to reduce emissions by 30% by 2030, on track to meet the 2°C goal of the Paris Agreement. According to the World Economic Forum, this battery revolution could also create 10 million jobs, add $150 billion to the global economy and provide electricity to 600 million people for the first time. When batteries are sourced, manufactured and recycled responsibly, they can power sustainable development.
Everledger helps clients to achieve traceability and so maximise the life cycle value of high-risk products such as portable electronics batteries, metal components and EV batteries. Our provenance-tracking solution drives transparency along clients' supply chains of critical metals and minerals, combining blockchain technology with AI, IoT and nanotechnology to enable traceability in a secure, unalterable and private platform.
As government regulation and consumer demand becomes ever stricter, so our blockchain solution facilitates traceability, enabling easier compliance. In the same way that rising public awareness around conflict diamonds has resulted in improved mining practices, so 'conflict metals' – whereby unverified extraction of critical minerals could benefit armed groups, contributing to conflict – could have a similar impact. The world has woken up to the need for a circular economy. Incentive mechanisms and methods are now needed to further raise awareness and build momentum for change.
Since 2017, Everledger has committed to supporting the Global Battery Alliance, with a view to raising ever more awareness around the challenges and opportunities of a sustainable battery value chain. Last year, we were awarded Phase 1 funding by the United States Department of Energy for two pilot programmes to trace the lifecycle of lithium-ion batteries using blockchain and Internet of Things (IoT) technologies. The first battery recycling project is a collaboration with Ford Motor Company, connecting stakeholders in its electric vehicle battery lifecycle to ensure optimal management and responsible recovery at end-of-life. The second pilot focuses on a platform to inform and reward consumers for recycling portable lithium-ion batteries and the products they power (read more on blockchain battery recycling).
The luxury goods industry is another that faces increasing challenges around authenticity, sustainability and innovation – all of which have an impact on brand reputation. Counterfeit products are still a prolific issue, with $98bn of losses estimated in 2017, according to the Global Brand Counterfeiting Report in 2018.
The environmental footprint of brands is a source of integrity and also a competitive advantage, therefore tracking raw materials usage, waste and water management and proper use of chemicals are key considerations. Fast fashion cycles mean fashion houses must find more sustainable ways to differentiate their brands. When products from a fashion label are counterfeited, reputations built on craft, origin, and quality are inevitably tarnished.
Through blockchain, NFC and IoT technologies, our platform creates a unique digital identity for every product, helping to give luxury brands the confidence to stand behind the goods that bear their name. By uniquely surfacing the lifetime journey of luxury goods, we help to combat counterfeiting while supporting fair working conditions and ethical sourcing of raw materials. Each product has its ownership registered on our private blockchain, where every transaction is securely recorded and accessible to end consumers.
The art world is on a constant state of alert to combat the risk of forgeries. Lack of traceability limits knowledge and confidence, reducing the financial and heritage value of desirable paintings and objects. The global headlines caused by counterfeit revelations demonstrate the importance of authenticity to sellers, auction houses and collectors.
Traditional paper-based certifications are vulnerable to damage or tampering. And as artwork changes hands, authentication often falls to individuals with no common objective standards. The potential for information arbitrage in transactions can result in varying valuations, which are often not settled on an artwork's true value. In worst cases, artworks can be lost or destroyed, robbing the world of priceless culture and heritage.
Again, using blockchain, NFC and IoT technologies, the Everledger platform creates a unique digital identity for every artwork, helping to create confidence in the origin of an artwork. Our technologies allow artworks and the conditions they are kept in to be carefully tracked and protected as they move between museums and owners. In establishing common benchmarks, formerly subjective authentication can be standardised.
The insurance industry is impacted by the same challenges as artwork, luxury goods and precious stones. Low visibility restricts the ability of brokers to perform to their full potential, hindering efficient pricing and processing. Insurers must often make decisions to accept risk without the crucial information they need. Paper trails of asset data in a disconnected value chain make the insurance journey complex and difficult, opening the door to fraud.
In an age when brand loyalty is low and customer experience is vital, any difficulty in providing information can create friction for customers at the time of a claim. As high-value assets change hands, each party needs to know that the asset is real and that they are protected from loss.
By surfacing more accurate information, Everledger can help the insurance industry to function with efficiency, improving the experience for insurer and customer alike. Insurers, retailers, producers and consumers can come together behind a more unified and trustworthy set of asset information. Our solutions seek to automate processes and govern exchanges, to make insurance processes as simple, seamless and as low cost as possible.
Better information also allows insurers to price accurately, increasing market efficiency throughout the value chain. Our solutions allow all stakeholders to make informed decisions and claim more easily. With increased visibility, insurers can spot fraudulent claims more quickly as well.